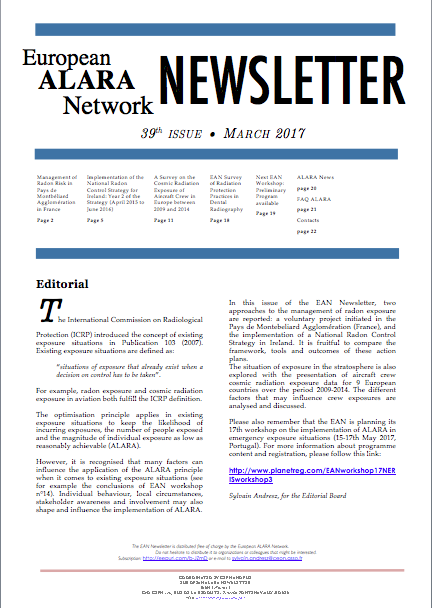 You can access here the 39th issue of the European ALARA Network Newsletter (pdf, 7,5 Mo). Articles deal with:
Management of Radon Risk in Pays de Montbéliard Agglomération in France, S. Lafage, T. Schneider, I. Netillard.
Implementation of the National Radon Control Strategy for Ireland: Year 2 of the Strategy (April 2015 - June 2016), D. Fenton.
A Survey on the Cosmic Radiation Exposure of Aircraft Crew in Europe between 2008 and 2015, S. Andresz.
Continuing EAN Survey on Radiation Protection Practices in Dental Radiography.
EAN activities : Preliminary programme of EAN 17th Workshop available.
As always : ALARA News and FAQ ALARA.
Comments are very welcome.
We wish you a pleasant reading!