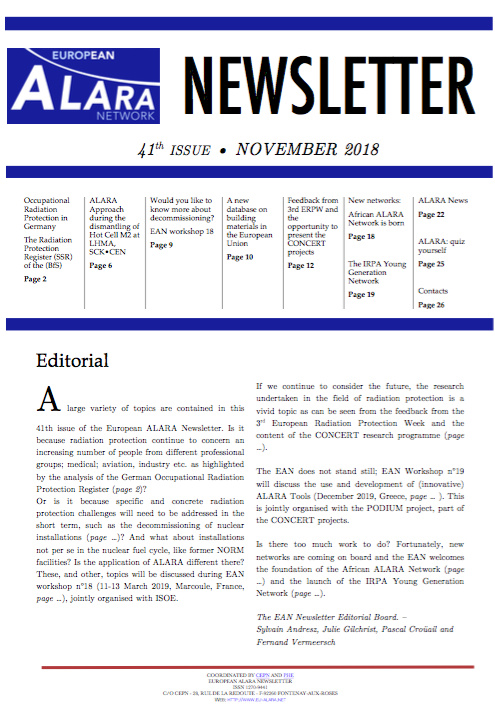 You can access here the 41th issue of the European ALARA Network Newsletter (pdf, 4,5 Mo). Articles deal with:
Occupational Radiation Protection Results in Germany - Results of the RP Register of the BfS, T. Rosentreter, U. Oeh, BfS, Germany
ALARA Approach During the Dismantling of Hot-Cell M2 at CSK•CEN Mol.P. Antoine, M. Estas, F. Vermeersch, SCK•CEN, Belgium.
Would you like to now more about decommissioning? A teaser for EAN next workshop.
A New Database on Activity Concentrations and Radon Emanation/Exhalation Rates of Building Materis in the EU, C. Nuccetelli, ISS, Italy.
The 3rd ERPW : a Feedback (and the opportunity to present an overview of CONCERT projects), A. Schmitt-Hannig, BfS, Germany.
As usual: ALARA News with notably the announcement of the launch of the African ALARA Network and the IRPA Young Generation Network
and an ALARA Quiz.
Remember the EAN Newsletter is open to contribution.
Comments are very welcome.
We wish you a pleasant reading!