Workshops
Feed back experience shows that there is in Europe a need for Workshops which are neither a big congress nor a collection of working groups with lots of different meetings, but which over a few days provide a forum for a few dozen experts to exchange feedback experience and to identify problems that need further research or development. Therefore the Network has organised and will continue to organise such type of Workshop once a year.
The subject is selected in order to cover domains where the Network Steering Committee Group estimates that many improvements in terms of ALARA implementation may be found. All papers are invited presentations. To promote discussions, appropriate time is made available for work in small groups and the number attending the workshop is limited to a few dozens experts. The language of the Workshops is English.
At the end of each Workshop the chairpersons and the working groups propose to the participants some recommendations to the EC and national regulatory bodies and other stakeholders corresponding to the feedback from the sessions of the Workshop. These recommendations are validated by the Network Steering Committee Group and send to the Commission and to other appropriate stakeholders.
Details
"Industrial Radiography: Improvements in Radiation Protection", Rome, Italy, October 2001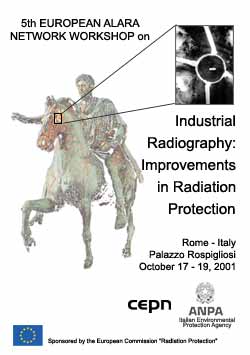 Download the Summary and Recommendations
The 2nd EAN Workshop on "Good Radiation Practices in Industry and Research" made a number of recommendations. For industrial radiography, improvements in radiographic equipment safety and worker training were key recommendations. This, the 5th Workshop has taken the recommendations of the 2nd workshop as a starting point.
About 70 representatives from 21 countries took part in that 5th Workshop. Most of the concerned stakeholders were represented: International Organisations (International Atomic Energy Agency-IAEA, European Commission-EC), national regulatory bodies, Non Destructive Testing (NDT) companies or professional organisations, client companies, viagra ingredients, industrial radiography apparatus manufacturers, radiological protection training organisations, qualified experts, research centres… Special mention should be given to the role of IAEA in supporting the participation of countries from the Middle East and Eastern and Central Europe.
That Workshop allowed all stakeholders to discuss more than 20 oral and 10 posters presentations. Six working groups were respectively devoted to: "regulation", "incidents, accidents, near misses", "work organisation", "training", "safety culture" and "equipment". Finally, that three days Workshop has led to several conclusions and recommendations for the improvement of workers radiological protection in industrial radiography.
Read more: 5th Workshop on "Industrial Radiography: Improvements in Radiation Protection"