Workshops
Feed back experience shows that there is in Europe a need for Workshops which are neither a big congress nor a collection of working groups with lots of different meetings, but which over a few days provide a forum for a few dozen experts to exchange feedback experience and to identify problems that need further research or development. Therefore the Network has organised and will continue to organise such type of Workshop once a year.
The subject is selected in order to cover domains where the Network Steering Committee Group estimates that many improvements in terms of ALARA implementation may be found. All papers are invited presentations. To promote discussions, appropriate time is made available for work in small groups and the number attending the workshop is limited to a few dozens experts. The language of the Workshops is English.
At the end of each Workshop the chairpersons and the working groups propose to the participants some recommendations to the EC and national regulatory bodies and other stakeholders corresponding to the feedback from the sessions of the Workshop. These recommendations are validated by the Network Steering Committee Group and send to the Commission and to other appropriate stakeholders.
Details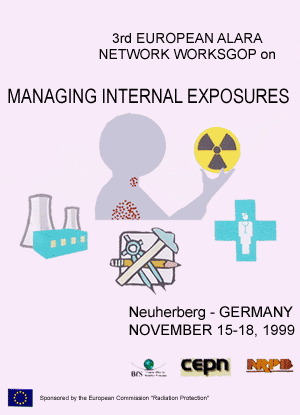 "Managing Internal Exposures", Neuherberg, Germany, November 1999

Download the Summary and Recommendations

T
he European ALARA Network held its third Workshop devoted to "Managing Internal Exposure" in November 1999 at Bundesamt fur Stralhenschutz (BfS), Institut fur Stralhenhygiene facilities in Munich. The 80 participants from 12 countries were specialists of internal dosimetry, representatives of regulatory bodies, managers in charge of risks management within different types of facilities (nuclear industry, phosphate industry, radio-pharmaceutical industry,
viagra ingredients
, nuclear medicine services in hospital…). More than thirty oral presentations and twenty posters gave rise to very fruitful discussions and led to a final panel session where the most important lessons learned from the Workshop were formulated into conclusions and recommendations.